Yr 6 Stay Safe! Stay Alert!
Yr 6 Stay Safe! Stay Alert!
27 March 2023 (by Mr Wilson)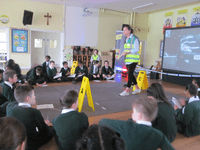 Year 6 took part in an interactive workshop on the importance of being aware of your surroundings when using your phone as part of our transition work for travelling to school in Year 7. The class had to analyse a road traffic accident, interview the witnesses and decide who was at fault. The story is based around the danger that being distracted by your phone can have when near busy roads and traffic.
Share this: